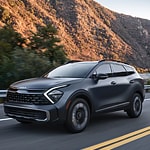 Our team at Jeff Smith Kia boasts many fans of the Kia Sportage. We love its spacious cargo and cabin, advanced safety and on-trend tech features. "What tech features?" you ask. We cover a few of them below. Take a look.
The Blind-Spot View Monitor
When you trigger your turn signal, the Blind-Spot View Monitor activates. It displays a live, high-res feed directly into the Kia Sportage's instrument cluster, showing both your blind spots. The monitor helps you make more careful, timely lane changes and turns.
The 12.3-inch Dual Panoramic Displays
Situated directly to the right of the steering wheel and instrument cluster are the Kia Sportage's Panoramic Screens. Driver-centric in their position, proximity, size, and crisp graphics, the screens display:
Navigation
Entertainment
Convenience features
Diagnostics
and immersive vehicle information features
The Surround View Camera
The 2022 Kia Sportage's Surround View Camera is actually four exterior cameras. Their combined feeds give you access to each camera's unique feed as well as a combined, bird's-eye view. The virtual vantage point gives you surrounding views of the road for enhanced awareness.